EKKO Title Reston
Bowman House, Suite 110
11718 Bowman Green Drive
Reston, Virginia 20190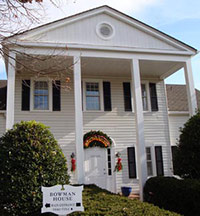 EKKO Title Reston is a full service title and escrow office, committed to closing your residential or commercial purchase, sale, refinance, or construction loan transaction. EKKO Title's Reston office is located in the historic Bowman House. Office Manager Jon Lyon is available to help make your next real estate purchase or refinance settlement trouble-free. Contact us for more information, or to set up an appointment to discuss your settlement.